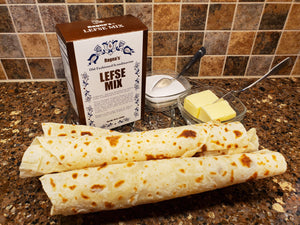 LEFSE MIX
Sale price Price $ 14.99 Regular price $ 0.00
Reduced Shipping to: 
MN, ND, SD, IA, NE, WI, IL
Calculated at checkout.
 E
njoy making your own lefse right at home. Authentic delicious lefse is always a big hit in any family. By using our mix you will be ready to roll out fresh lefse in minutes. Keep the lefse making a tradition with a little help from Ragna's Old Fashioned Scandinavian Potato Lefse Mix.
Directions:
Dissolve 1 and 1/3 stick margarine or butter in 1 cup boiling water adding another 1 1/3 cup of cold water after margarine has been dissolved - add to the contents of this bag and blend with a fork. For best results roll dough as thin as possible on a floured pastry cloth. Bake on an ungreased lefse grill, electric fry pan, etc. at approximately 500 degrees F.
Note: 1 package makes 18 lefse 12 inches in diameter.
_____________________________________
Need help or have a question?
Call us! 218.945.6927
_____________________________________
Shipping to all 48 Lower States
ReducedShipping

to MN, ND, SD, IA, NE, WI, & IL!